If you are applying to study in China, you must need a Two Recommendation letter for CSC Scholarship or any other type of scholarship. The recommendation letter is from someone like your Professor who knows you throughout your academic studies from your Last institute/university.
Common Frequently ask Questions Regarding Recommendation Letters
Question 1: Can we use the same format for two recommendation letters?
Answer: No, Keep in Mind both recommendation letters have their own format and own body content.
Question 2: Is Recommendation Letters Professor stamp is necessary?
Answer: No, but if you have it's good for your application.
Question 3: Can we use the Previous Year recommendation letters for CSC Scholarship?
Answer: Yes, you can use it but, Many Universities required the Latest Recommendation letter.
Sample for Recommendation Letter for CSC Scholarship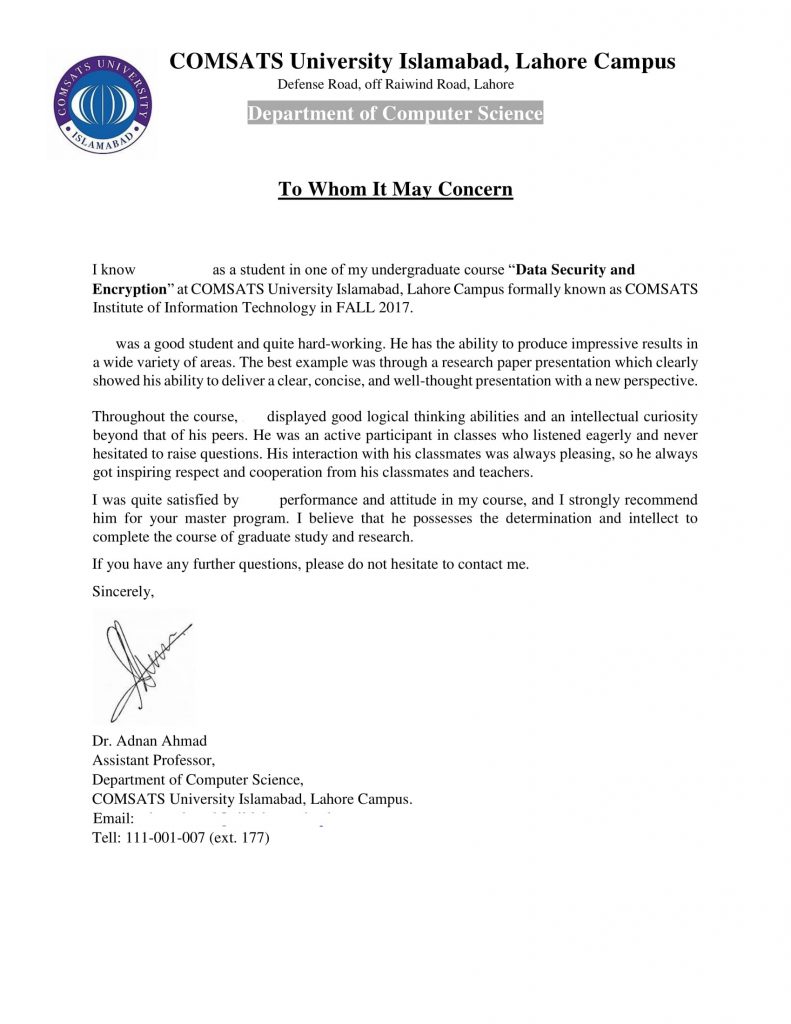 Recommendation Letters Template 1:
TO WHOM IT MAY CONCERN
It is my pleasure to write this letter at the request of Muhammad Ahsan, University registration number is 2010-ag-3803. He is/was a student of BS Software Engineering (4 years degree program) 8th semester (or has completed degree) in the Department of Computer Science, University of Agriculture Faisalabad, Pakistan, which is world ranked University. (If degree is not completed then add this sentence.) Hopefully his degree will be completed in May 2018.
I taught him two courses (Introduction to Programing and Object Oriented Programing). His performance in these courses was excellent. He particularly adapt in design, analysis and development phase of Software Engineering, Software Development and Database Design. He is fully capable to develop independently interactive websites.
He is unique blend of natural ability, directness, common sense and sincerely. He smiles readily and interacts affectively at all levels
I highly recommend his name for further higher studies in any suitable and reputable organization. If anyone would like to discuss credentials in more details, please feel free to contact me.
Dr. Muhammad Ahsan
Associate Professor,
Department of Computer Science,
University of Agriculture Faisalabad, Pakistan.
Email:
Contact No: +92-3000000000
Recommendation Letters Template 2:
To whom it may concern
Dear Prof,/Dr.,/Sir,/Madam
,Letter of Recommendation for (your name)—————– is a second year student of ———-University name ————. I first knew him when he attended the Mathematics Teaching Method course that I taught in July 2014. I found him, to be an intelligent student who is keen in learning and actives in class discussions. He has also shown great interest in exploring new knowledge and new culture. Recently, I proposed him to apply for the (name of scholarship) and he has shown intense interest and motivation to apply for it by getting ready all the necessary application within a short period of time. I observed that he is an independent and discipline worker as evidenced in the way he prepared his personal statement. He also has a pleasant personality as he is approachable and helpful. Hence, I am confident that he will not face any problem in interacting with other students from different cultures.
He has deep affection in mathematics and mathematics teaching. This is shown in his excellent academic performance of above 3.9 (CGPA) for the last two consecutive semesters. Thus, I strongly support his application to pursue the mathematics education program in Stanford University, California, United States. I am sure the mentioned program will provide him with excellent opportunities that expose him to new mathematical experiences and exploration. This new experiences will ultimately help him to become a better mathematics teacher in the near future.
Lastly, without any hesitation, I would recommend him for the above programme. if you need further assistance, please do not hesitate to contact me via email. Thank you.Yours faithfully,
Also Check: